At the Pasadena Cyberknife oncology center, it is our goal to provide every patient with individualized cancer treatments that will aggressively stop cancer growth and give hope for recovery and a cancer free future. During the month of March, this is especially important as we strive to bring awareness about kidney cancer, patients fighting kidney cancer, and those who we have unfortunately lost to their battle with kidney cancer. Our Cyberknife kidney cancer treatment in Los Angeles delivers a precise dose of radiation, with pin-point accuracy, to decrease tumor growth and stop kidney cancer in its tracks.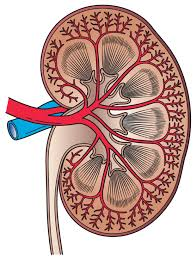 Find a Cancer Treatment That Works For You
Whether you have been recently diagnosed with kidney cancer or have been undergoing other treatments, Cyberknife radiation center may be right for you. Unlike conventional radiation therapy treatments, the CyberKnife system is designed to respond to the movement of the tumor as a result of respiration or other involuntary bodily functions. During treatment, the Pasadena CyberKnife system continually calibrates your tumor's position through a unique combination of real-time imaging and intelligent tumor tracking.
Be Aware & Recognize the Symptoms
Kidney cancer is never easy and will always come as a shock to a newly diagnosed patient. At Pasadena Cyberknife, we hope to raise awareness throughout the month of March about the signs and symptoms of kidney cancer in order to diagnose and treat early. The most common symptoms of kidney cancer include:
Blood in the urine (hematuria)
Low back pain on one side (not caused by injury)
A mass (lump) on the side or lower back
Fatigue (tiredness)
Loss of appetite
Weight loss not caused by dieting
Fever that is not caused by an infection and that doesn't go away
Anemia (low red blood cell counts)
If you are worried about any of these symptoms, please contact your local oncology and cancer treatment center in Los Angeles for kidney cancer care immediately.
Schedule Your First Visit With Pasadena Cyberknife Oncology Center!
For more information about kidney cancer treatment and the Cyberknife system, never hesitate to contact Pasadena Cyberknife radiation center. Cyberknife is an effective alternative treatment for kidney cancer that may be right for you or a loved one. Call Pasadena Cyberknife in Los Angeles to schedule your first appointment. We look forward to helping you and creating hope for the future!