10 Years of Use Proves the Safety and Efficacy of SBRT for Lung Cancer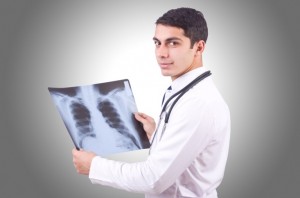 According to researchers from the Cleveland Clinic Foundation, a decade of lung cancer treatment with SBRT has proven that this focused radiation therapy is not only effective for controlling the growth and spread of lung cancer, it can also limit radiation exposure for the patient. The researchers tracked the results of SBRT for inoperable, early-stage lung cancer from 2003 to 2013. During that time, a mere 13 percent of the patients studied demonstrated any side effects, and even among those that did, symptoms were usually minimal.
50-in-5 Regimen
For the purposes of the study, patients received what the researchers dubbed the "50-in-5 regimen" of SBRT, which consists of a total of 50 Gy of focused radiation delivered over the course of five sessions. Between October 2003 and December 2012, 300 patients received the 50-in-5 regimen to treat a total of 340 non-small cell lung cancer lesions. The average patient was 74 years old and over half the patients studied were women. A little more than 18 percent were cigarette smokers, although most of the patients were considered inoperable for other reasons.
The majority of the patients only needed a single course of SBRT for lung cancer treatment. Treatments were administered daily over a five-day period. Fifteen percent of the patients needed one or more additional courses of SBRT because their cancer came back. The short course of treatment with SBRT and the effectiveness of the treatment are why so many patients now choose CyberKnife for non-invasive lung cancer treatment.
High Efficacy, Low Toxicity
Though researchers did find that SBRT was effective at treating non-small cell lung cancer, they did point out that only 47 percent of the patients were alive at the five-year follow-up, largely due to patients' advanced age and the occurrence of other diseases that affect survival. While SBRT did eliminate the cancer within the lung, a significant percentage of patients experienced a return of cancer in another part of the body.
Nevertheless, Cleveland Clinic Foundation radiation oncologist Dr. Gregory Videtic called the treatment "an amazing technology for a population of patients who previously had no other options." He believes that this non-invasive, focused radiation treatment could extend the life spans of up to 20,000 people each year by giving those who aren't healthy enough for surgery another option.
Furthermore, SBRT is one of the safest forms of cancer treatment. A mere 13 percent of the patients studied exhibited any side effects at all due to the treatment, and all of those were low-level, minor side effects. In 75 percent to 80 percent of the cases, side effects were minor enough to heal on their own, and within a short time frame. Previous studies seemed to suggest that SBRT was very safe, but this study is important because side effects from radiation treatment can sometimes appear several years after treatment ends. The length of the study period allowed the researchers to evaluate the long-term safety of the procedure.
According to the results of a new 10-year study from the Cleveland Clinic Foundation, SBRT is effective and remains safe, even in the long term. If you or someone you love is suffering from inoperable lung cancer, this non-invasive procedure could help you overcome cancer with just one short round of treatment.
More