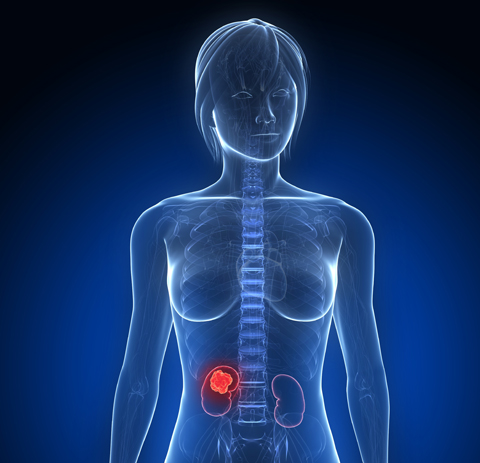 Here at Pasadena CyberKnife, we pride ourselves on providing the most advanced stereotactic radiosurgery cancer treatments to all our patients located throughout the greater Pasadena, CA area. If you're looking for kidney cancer surgery, we encourage you to consider our targeted radiation therapy – CyberKnife. Our state-of-the-art CyberKnife system that we offer in our oncology center delivers precise doses of radiation with incredible accuracy, making it a perfect non-invasive alternative to conventional kidney cancer surgery.
What Are Your Kidneys?
Your kidneys are a pair of bean-shaped organs that are about the size of a fist. A kidney is located on each side of the backbone and they're attached to the upper back wall of the abdomen. The kidneys' primary task is to filter the blood that comes in from the renal arteries in order to remove excess water, salt, and waste products.
What Is Kidney Cancer?
Kidney cancer is a cancer that starts in the kidneys, causing both small and large tumors to grow. Cancer begins when cells in the body start to grow out of control. It can then spread to other areas of the body; cells in nearly any part of the body can become cancerous.
Symptoms of Kidney Cancer
Unfortunately, early kidney cancers don't typically show any signs or symptoms. While later stages of kidney cancer can cause symptoms, these are more often caused by other benign diseases, such as a urinary tract infection or a kidney stone. Regardless, if you notice any problematic symptoms, it's important to visit your oncology center as soon as possible so that the cause can be found and treated, if necessary. Some of these potential signs and symptoms of kidney cancer include:
Blood in the urine
A mass or a lump on the side or lower back
Low back pain on one side
Fatigue
Anemia
Fever
Weight loss
Loss of appetite
What Is Stereotactic Radiosurgery?
Stereotactic radiosurgery (SRS) is an incredibly precise form of radiation cancer therapy that can treat small brain tumors and functional abnormalities of the brain. This treatment is made possible through advanced radiation technologies, including our CyberKnife system.
The CyberKnife Treatment Process
The difficulty with kidney cancer surgery is that your kidneys are located next to multiple vital organs, which means that they'll be constantly moving because of natural bodily functions, such as breathing. Treating kidneys can pose a significant challenge to a cancer doctor due to having to operate on a constantly moving target.
Here at Pasadena CyberKnife, our CyberKnife system delivers a high dose of radiation directly to the cancerous tissue with amazing pinpoint accuracy. Unlike conventional cancer treatment, our CyberKnife system is designed to respond to the body's natural movements. This system will constantly calibrate your tumor's position through a unique combination of intelligent tumor tracking and real-time imaging, allowing it to remain on target throughout the entire treatment.
This will also minimize damage to healthy tissues around tumors, which will result in fewer side effects for patients. There's typically no pain or sickness like you'd often experience with conventional radiation treatments. You won't even need an overnight stay at our radiation center; you can go home and resume your daily activities immediately after our cancer treatment session.
Our CyberKnife cancer treatment session at our radiation center will take between 30 and 90 minutes to complete. Our cancer therapy is completed in one-to-five sessions, usually over the course of one week, making it a vast improvement over the 25-to-47 sessions typically needed for conventional radiation therapy!
Visit Your Pasadena Radiation Center for Cancer Therapy!
If you're looking for cancer treatment or kidney cancer surgery, we encourage you to schedule an appointment at our oncology center by giving your cancer doctor a call at (626) 768-1021. Please feel free to contact us if you have any questions about our cancer therapy. We hope to hear from you soon!