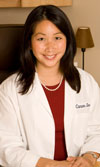 Background
Dr. Sara Kim is a Board-Certified Radiation Oncologist. She earned her B.S. in Biology from the University of California at Berkeley and graduated with an M.D. from the University of Alabama School of Medicine in 1997. She did her residency at the Department of Radiation Oncology at the University of Southern California (USC) from 1999-2003. She is Board-Certified by the American Board of Radiology.
Affilations
Hospital affiliations include Glendale Adventist Medical Center and White Memorial Medical Center. Over the years, Dr. Kim has published manuscripts, won numerous awards and presented over a dozen presentations to peers and colleagues at various meetings and seminars.
Personal
Dr. Kim enjoys spending time with her family when she is not at work.