How to Support Your Partner During Prostate Cancer Treatment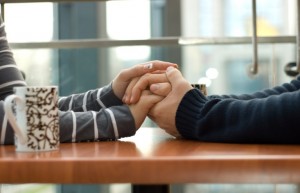 Prostate cancer doesn't just affect the man diagnosed; the disease's impact also extends to his partner, children, parents, and friends. As the partner of a man with prostate cancer, it can be hard to know how to respond and what to do to support your other half through his treatment and beyond. The diagnosis itself is terrifying for many partners. Physical and emotional healing after treatment can take a long time, and side effects may linger.
If your partner is diagnosed with prostate cancer, you can offer both practical and emotional support by gathering information, being present for doctor's appointments, and encouraging your partner to get plenty of rest, eat right, and take good care of himself. You should know what to expect following your partner's diagnosis. Don't forget to take care of yourself, too.
Give Your Partner Practical Support
One of the most important things you can do as the partner of a man going through or about to begin prostate cancer treatment is to offer practical support. This means accompanying your partner to doctor's appointments and treatment sessions, as long as he's amenable to it. Ask questions, make notes, and be an advocate for your partner during his treatment. Often, you'll pick up on things that your partner may have been too distracted to notice. Your partner may also need help with transportation, scheduling, filing insurance claims, and other mundane tasks related to treatment.
You can also help your partner by communicating with others in his life about his diagnosis. Many men prefer to keep a diagnosis of prostate cancer private, but if your partner wants to reveal his diagnosis and treatment progress to others close to him, he may need you to do the talking. Be prepared to help your partner talk with loved ones about his prostate cancer.
Be There for Your Partner Emotionally
Prostate cancer and its treatment can leave emotional wounds as well as physical ones. Encourage your partner to discuss his feelings with you, but don't be pushy about it. Remind him that he's not less of a man because of prostate cancer, and that it can take some time for him to begin to feel like his old self again.
Know What to Expect
Knowing what to expect after a prostate cancer diagnosis can make it easier for both of you to cope. Depending on the treatment, your partner may face side effects including:
Temporary or ongoing erectile dysfunction
Low sex drive
Weight gain and muscle loss
Hot flashes
Brittle bones
Fatigue
Urinary incontinence or bowel problems
Infertility
Sometimes prostate cancer treatment can cause cognitive changes, too, including memory problems and trouble concentrating. Radiosurgery treatment through CyberKnife will leave patients with fewer side effects.
Take Care of Yourself
You won't be able to support your partner if you allow yourself to become emotionally depleted, so take care of yourself, too. In addition to eating right, exercising, and getting plenty of sleep, take time for the hobbies you enjoy and the other people and things you love. Spend time with friends, talking about things other than your partner's prostate cancer. Set aside time to relax each day.
It's not easy supporting a partner who's going through prostate cancer treatment. You can help by handling many of the mundane tasks associated with managing medical care, and by offering your partner a kind ear. Facing prostate cancer takes courage, but the two of you will win out in the end.