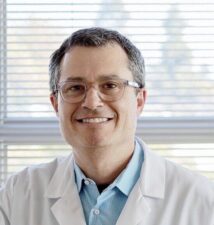 Background
Dr. Igor Fineman is the Medical Director of Neurosurgery for the Pasadena CyberKnife Center and the Director of Functional and Stereotactic Neurosurgery at Huntington Hospital, Pasadena. Additionally, he is also Co-Director of the Stereotactic Radiosurgery at Glendale Adventist Medical Center in Glendale, CA, faculty member at the City of Hope National Medical Center in Duarte, CA, and Visiting Associate at the California Institute of Technology in Pasadena, CA.
Education
Dr. Fineman earned his B.S. in Bioengineering from UCLA School of Engineering and Applied Science in 1990. After receiving his M.D. in 1994 with a Thesis degree – a designation at UCLA School of Medicine which designates a thesis (Neurotrauma), Dr. Fineman completed a Neurosurgical Residency at the UCLA Medical Center from 1995-2000, followed by a fellowship in Functional and Stereotactic Neurosurgery and Radiosurgery from 2000-2001. Dr. Fineman became a diplomate of the American Board of Neurosurgical Surgery in 2004.
Affilations
Dr. Fineman is a member of the American Association of Neurological Surgeons, Congress of Neurological Surgeons, American Association for Functional and Stereotactic Neurosurgery, North American Spine Society and the Society for Neuroscience. Dr. Fineman's clinical expertise is in stereotactic neurosurgery and surgical treatment of movement disorders such as Parkinson's disease, as well as treatments of benign and malignant tumors of the brain and spine with radiosurgical and open surgical techniques.
Personal
In his spare time, Dr. Fineman enjoys music, travel, and spending quality time with his family.